Don't Let Financing Hold You Back: How to Buy a Car from a Dealership with Credit Union Funding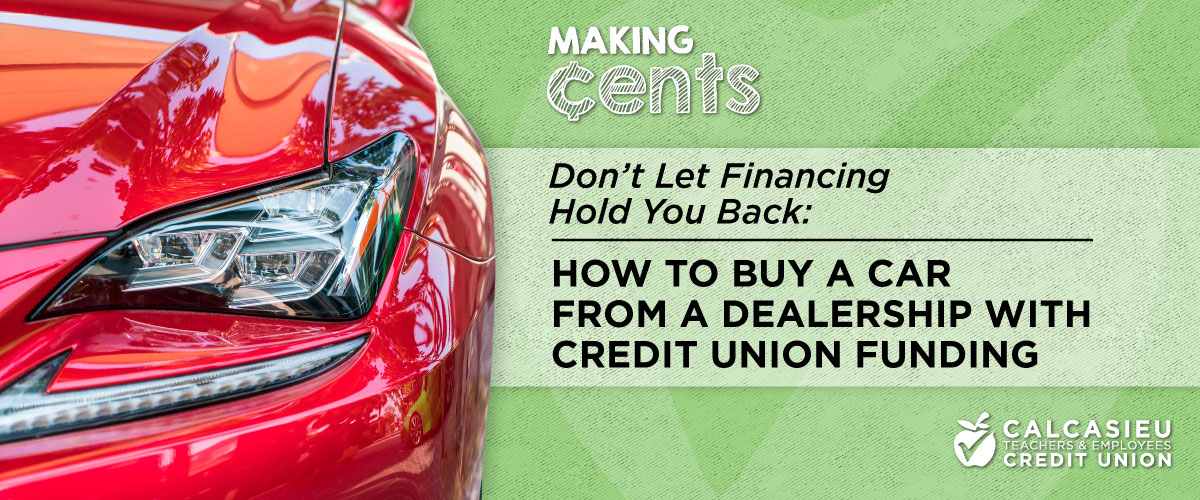 Buying a car from a dealership can be a daunting task, especially when it comes to financing. However, with a little preparation and knowledge, you can navigate the process smoothly and end up with a car that meets your needs and budget. Here are some tips for buying a car from a dealership:
Shop around and do your research: Before you start looking at specific dealerships, it's important to do your homework and figure out what kind of car you want and can afford. Research different models and compare prices to get a sense of the market. You should also consider your financing options, including the terms and rates offered by the credit union. Dealerships offer a wide variety of financing options with varying incentives. It's important to understand and compare all your options. A lower monthly note typically means you will pay a higher interest rate. Be cautious of predatory lenders who are focused on making the sale rather than what's in your best interest.

Get pre-approved for a loan: Once you have a good idea of what you're looking for, it's time to get pre-approved for a loan from the credit union. This will give you a better idea of your budget and allow you to negotiate with the dealership from a position of strength. It will also show the dealership that you are a serious buyer and that you already have your financing in place. Getting pre-approved is quick and easy. Start with our Payment Calculator to see what your potential payment would be, then click the "get pre-approved" button. Follow the on-screen prompts to submit your loan application. Not a member? Not a problem! You can become a member during the loan application process.

Negotiate the price of the car: Once you have found a car that you like and that fits your budget, it's time to start negotiating the price. Be prepared to negotiate and be willing to walk away if the dealership isn't willing to meet your terms. Remember that the dealership's initial offer is usually just a starting point and that there is usually room for negotiation.

Consider additional fees and warranties: In addition to the price of the car, there are often other fees and charges that you will need to pay, such as taxes, registration fees, and financing fees. Be sure to ask about these fees and negotiate them as well. Many dealerships will include additional fees like VIN etching, advertising fees, extended warranties and more. The title and registration fees and sales tax are not negotiable. Calcasieu Teachers and Employees Credit Union offers a number of protection plans like Debt Protection, Guaranteed Asset Protection (GAP), and Mechanical Repair Protection (MRP) that can provide added peace of mind and help protect your investment. The plans are usually cheaper and more reasonably priced than purchasing at a dealership.

Finalize the sale and financing: Once you have reached an agreement on the price and any additional fees, it's time to finalize the sale and financing. This will typically involve signing a purchase agreement and providing the dealership with your financing information. Be sure to read the documents carefully and ask questions if you don't understand something.
Buying a car from a dealership can be a complex process, but with the right preparation and knowledge, you can navigate it smoothly and end up with a car that meets your needs and budget. By following these tips, you can confidently buy a car from a dealership with confidence and financing from a credit union. Feel free to contact the credit union at (337) 433-4525 prior to entering financial discussions. We are here, ready and willing to help you make your purchase as smooth as possible.
« Return to "Blog"
Go to main navigation